Infrastructure Investment and Jobs Act (IIJA)
As all of you know by now, the Senate voted 69 to 30 and passed the bi-partisan $1.2 trillion Infrastructure Investment and Jobs Act (IIJA). Senator Bob Casey voted Yea, and Senator Pat Toomey voted Nay on final passage. Please thank Senator Casey for his affirmative vote when you meet with him or communicate with his office.
The National Asphalt Pavement Association released a statement providing a summary of the impact the bill will have on the asphalt pavement industry. According to NAPA's state-by-state funding summary, Pennsylvania would receive $13.1 billion over 5-years (2022 - 2026) which is a 40% increase (roughly a $880 million increase per year) over the FY2016 - FY2020 FAST Act total of $8.7 billion. When FHWA prepares the final funding tables, we will provide you with that information. In addition, Pennsylvania would be able to apply for an additional $31 billion of funding through competitive grant programs awarded by the US DOT including Mega Projects, RAISE (Formerly called TIGER), Safe Streets, Culverts, Bridge, and INFRA.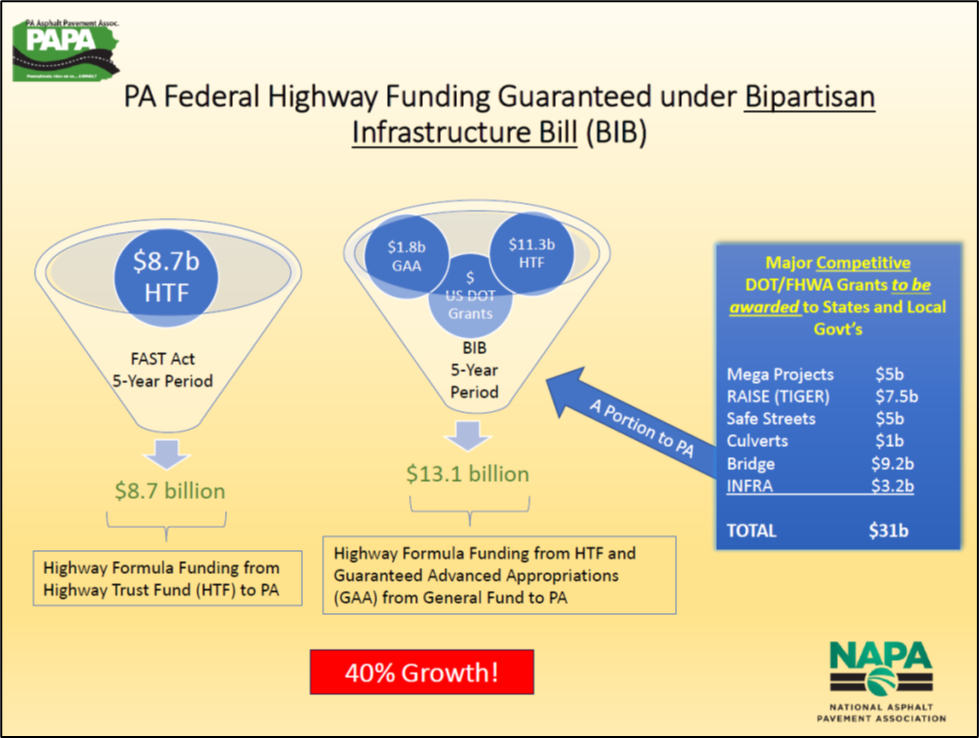 The bill now heads to the House of Representatives. Speaker Pelosi has announced that the House will be in session the week of August 23rd to pass the FY 2022 Budget Resolution approved by the Senate earlier this week. Our partner state asphalt pavement associations, along with national associations, the Chamber of Commerce, ARTBA, AGC, NAPA, NSSGA, etc., will be initiating a grassroots and media campaign to urge passage of the Senate Bipartisan Infrastructure Bill during the week of August 23rd also. We will pass pertinent information along regarding that campaign once we receive it. The sooner the Congress sends the bill to the President, the sooner Pennsylvanian's will see the benefits of the bill.
As an active member of PAPA, we would encourage you contact your Congressman or Congresswoman and urge them to get back to Washington and pass the Infrastructure Investment and Jobs Act. PA would receive $2.62 billion per year for the next five years and this amount of funding would provide an exponential and generational opportunity to improve all our transportation infrastructure assets and in particular the two most in need of repair, replacement, and rehabilitation, roads, and bridges. There is not a second to lose and we need to make the voices of the asphalt pavement industry heard in the local and Washington offices of our elected Congressional members.
---